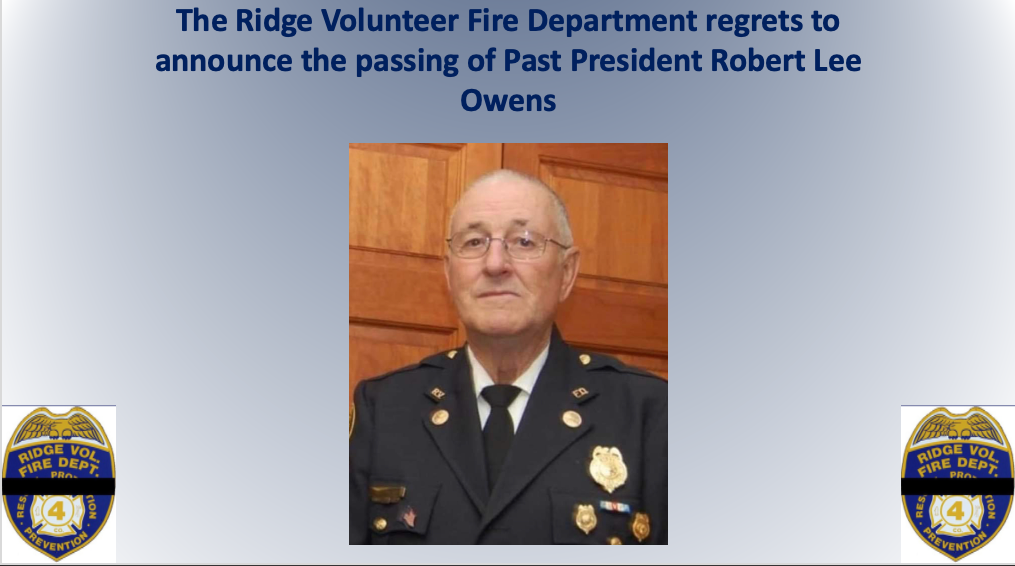 Robert Lee was with Ridge VFD from 1951 - 1958, then again 1977 - present. He was a Life Member and gave 51 years of selfless service to RVFD. He also served a number of years with Leonardtown VFD. Robert Lee was an honored member of the Southern Maryland Volunteer Fireman's Association's Hall of Fame.
Family will receive friends for Robert Lee's Life Celebration on Wednesday, June 29, 2022, at 5:00 with prayers at 7:00 p.m., followed by Fire Department prayers at St. Michael's Church, 16566 Three Notch Road, Ridge, MD 20680. A Mass of Christian burial will be celebrated on June 30, 2022, at 10:00 a.m. at St. Michael's Church. Interment of ashes will follow in the church cemetery.
Please keep the Owens family in your thoughts and prayers during this time of sorrow.
---
Gearing Up For Summer Safety - Outdoor Grilling Safety

Lieutenant Scot Best, June 23

Every year, we look forward to summer vacations, camping, family reunions, and picnics. Summertime, however, can also bring unwanted fires and injuries due to these outdoor activities. During the month of June, the Ridge VFD will share summer fire safety tips on various topics. This week, we focus on Outdoor Grilling Safety.

Summertime means outdoor grilling time. It is also the peak season for grilling ... (Full Story & Photos)


Boat 4 to Virginia for Training

Lieutenant Scot Best, June 17

Last evening, Chief Brian Cooper, Asst Chief John Keister, and Captains Danny Gatton and Francis Raley took Boat 4 across the Potomac River for mutual aid training with Cople District Volunteer Fire Department (Kinsale, VA). Cople District VFD reached out to learn more about our fire boat capabilities and how we can further help each other during Potomac water rescues. This was a great experience ... (Full Story & Photos)


Gearing Up For Summer Safety - Marina/Boating Electrical Safety

Lieutenant Scot Best, June 15

Every year, we look forward to summer vacations, camping, family reunions, and picnics. Summertime, however, can also bring unwanted fires and injuries due to these outdoor activities. During the month of June, the Ridge VFD will share summer fire safety tips on various topics. This week, we focus on Marina/Boating Electrical Safety.

There's nothing like a great day out on the water spending time ... (Full Story & Photos)


Gearing Up For Summer Safety - Hotel/Motel Safety

Lieutenant Scot Best, June 08

Every year, we look forward to summer vacations, camping, family reunions, and picnics. Summertime, however, can also bring unwanted fires and injuries due to these outdoor activities. During the month of June, the Ridge VFD will share summer fire safety tips on various topics. This week, we focus on Hotel/Motel Safety.

With the school year coming to a close, everyone is turning their attention ... (Full Story & Photos)


Gearing Up For Summer Safety - Car and Recreational Vehicle Fire Safety

Lieutenant Scot Best, June 02

Every year, we look forward to summer vacations, camping, family reunions, and picnics. Summertime, however, can also bring unwanted fires and injuries due to these outdoor activities. During the month of June, the Ridge VFD will share summer fire safety tips on various topics. This week, we focus on Car and Recreational Vehicle Fire Safety.

Summertime means that families will be travelling for ... (Full Story & Photos)


Fire and Safety Hazard Product Recalls

Lieutenant Scot Best, May 31

The following products were recently recalled by the U.S. Consumer Product Safety Commission (CPSC):


1) Product: Linum Home Textiles Children's Robes

Hazard: The children's robes fail to meet the federal flammability standards for children's sleepwear, posing a risk of burn injuries to children.

Recall date: May 5, 2022

For more information visit: https://tinyurl.com/mv7hres2
_____________________________________________________________________________________________

2) ... (Full Story & Photos)



MVA - St. Inigoes

Vehicle Overturned and Through Fence - St. Inigoes

Firefighter / NREMT Edward (Eddie) Raley, May 21

4-04 Box, 15:41 - Station 4 units were dispatched to the area of Gum Landing Road and Beachville Road for the reported vehicle overturned and through the barrier fence of Webster Field Naval Annex. Safety 4B arrived at 15:45 and reported a vehicle was through the fence but the occupants were out of the car. Chief 4 arrived a short time later and assumed the command. Webster police responded to secure ... (Full Story & Photos)


Monthly Drill: Residential Solar Firefighter Safety

Lieutenant Scot Best, May 17

Ridge VFD firefighters gathered last evening for our monthly training drill. This month we learned about maintaining firefighter safety while mitigating an incident involving homes with solar panels and energy storage systems. Gage Murdock from Energy Select came to the firehouse to present on the topic. Basic firefighter strategies and tactics needed during a residential structure fire have changed ... (Full Story & Photos)

Protecting Maryland's First Since 1948