Welcome to Ridge Volunteer Fire Department, Inc.
Ridge, Maryland
---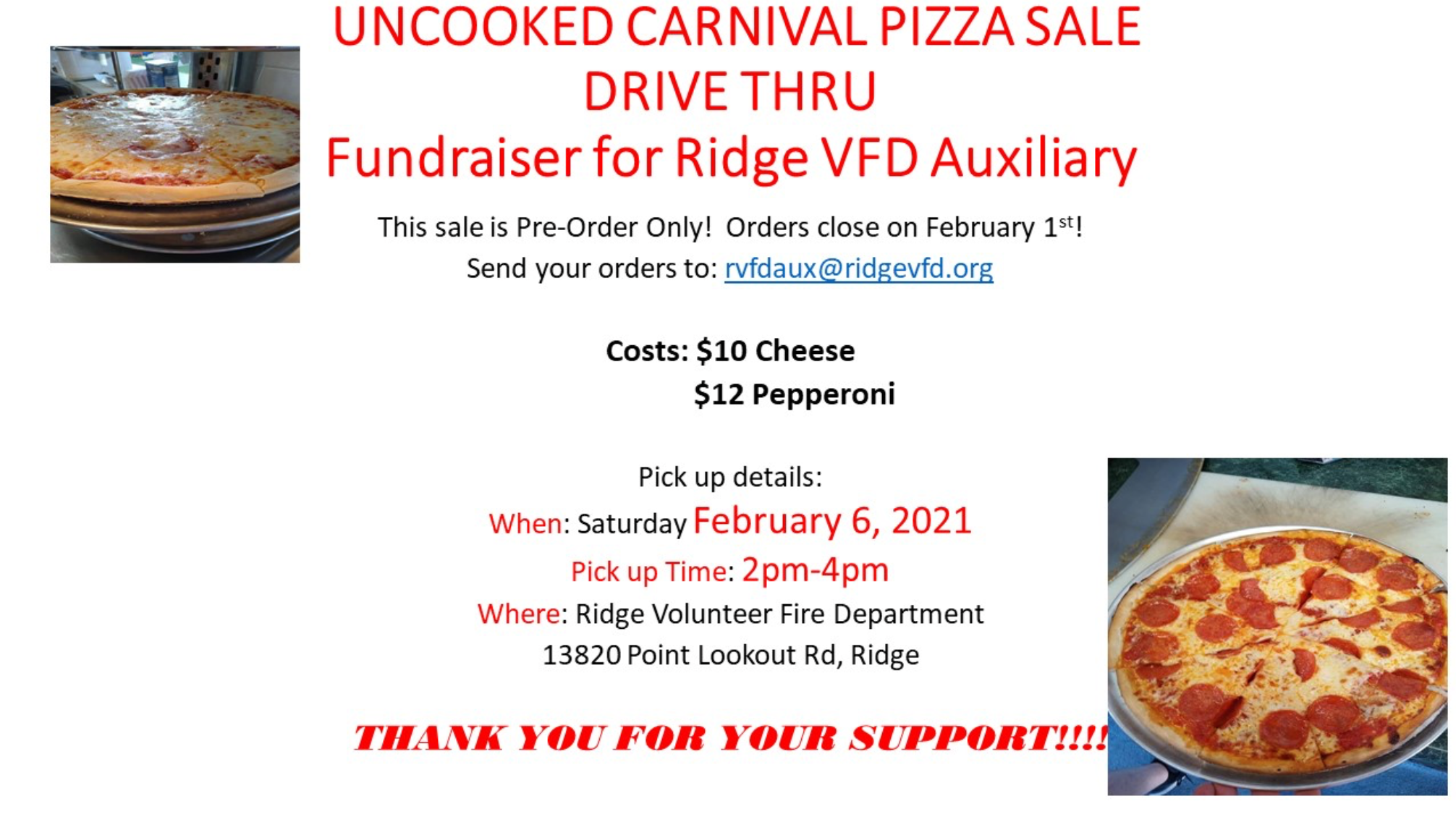 ---
SWEET STREET DONUTS FUNDRAISER
The Ridge VFD Auxiliary has coordinated a Fundraiser with Sweet Street Donuts! They are a mobile unit that are absolutely delicious! There are many flavors to choose from. Below is a link to an order form to order.
Sweet Street Donuts will PREMAKE your donut order and deliver them on 2/21. Pickup time is between
930am-10am.

Invoices will be sent the day prior to the delivery (NOT immediately after submission of the form). Invoices time out and will be canceled after 8 hours of non payment.

The menu is as follows:
Flavor# 1. Banana Glaze, Chocolate Chips, Coconut & Peanuts

Flavor #2. Blueberry Glaze & Powdered Sugar

Flavor #3. Chocolate Glaze & Rainbow Sprinkles

Flavor #4. Honey Glaze & Cinnamon Sugar

Flavor #5. Marshmallow Glaze & Oreo Crumbs

Flavor #6. Raspberry Glaze, Chocolate Chips & Coconut

Flavor #7. Strawberry Glaze, Graham Cracker & Powdered Sugar

Flavor #8. Honey Glaze, Graham Cracker & Chocolate Chips
To order visit https://docs.google.com/forms/d/e/1FAIpQLSeGmPtJ_QTF4clGQI7wRg62G_G4Ph6uJa_4JLC7zrZ_kbNNAw/closedform

St Mary's City House Burn

Live Fire Burn Training

Safety Officer Edward (Eddie) Raley, January 16

During December 2020 and January 2021 Ridge VFD members had the opportunity to participate in live fire interior burning with houses that were donated to us for training purposes from our community. Providing training to members as been a challenge during this pandemic. We have done numerous online training module training provided by our insurance company and plan to do some drills via Zoom in the ... (Full Story & Photos)


Fire Hazard Product Recalls

Public Information Officer / Fire Prevention Officer Scot Best, January 15

The following products were recently recalled by the U.S. Consumer Product Safety Commission (CPSC) due to fire and burn risks:


1) Name of product: Sure Scents 2-1 Peaceful Stream/Moonlit Waves Candles (Sold exclusively at Dollar Tree)

Hazard: The candles' high flames can ignite the surface of the wax or cause the glass to break, posing fire and burn hazards.
Recall date: December 2, 2020

For ... (Full Story & Photos)


St. Mary's County Government Public Information Office Reminds You "That Smoke Alarms Save Lives"

Public Information Officer / Fire Prevention Officer Scot Best, January 15

In a News Release today from Alisa Casas, Communications Director at the St. Mary's County Government Public Information Office, citizens are encouraged to install and maintain smoke alarms/detectors in their homes.

According to the News Release (No. 2021–20; Jan 15, 2021), The National Fire Protection Agency estimated 1,291,500 fires in the U.S. These fires caused an estimated 3,704 civilian deaths; ... (Full Story & Photos)


Ridge VFD provides mutual aid on structure Fire in Lexington Park

PIO / Fire Prevention Officer Scot Best, January 15

January 14, 2021, Box, 23:43 - Squad 4 and Tanker 4 were dispatched to the 19400 block of Three Notch Rd in Lexington Park for the reported house fire. Squad 4 arrived and initially operated as RIT. Squad 4 crew then transitioned to interior salvage and overhaul. Tanker 4 operated as a water shuttle, using the folding tank to collect water from other suppling Units. Chief 4 was designated as water ... (Full Story & Photos)



Structure Fire - Ridge

Building Fire at Ridge Elementary School Campus

Safety Officer Edward (Eddie) Raley, January 12

4-06 Box, 16:12 - Ridge VFD responded to 49430 Airedele Road in Ridge for reported smoke coming from a heater unit in one of the schools cottages. Ambulance 496C arrived on the scene at 16:16 and reported smoke coming from side Delta of the structure. Chief 4 arrived at 16:18 and reported a 40x60 trailer on side Delta of Ridge Elementary School with smoke showing and established the command. Engine ... (Full Story & Photos)




Hall of Fame - Safety Officer Phil Cooper

Ridge VFD MSFA Award Recipients

Assistant Fire Chief Edward (Eddie) Raley, October 12

Due to COVID-19 restrictions the annual Maryland State Fireman's Association Convention in Ocean City Maryland was cancelled. The convention was held virtually instead. Listed below are this years Ridge VFD MSFA Award Recipients.

Safety Officer Phil Cooper was inducted into the MSFA Hall of Fame.The Hall of Fame Award was established by the Maryland State Firemen's Association (MSFA) Executive Committee ... (Full Story & Photos)


Double Vehicle Accident - St. James

Assistant Fire Chief Edward (Eddie) Raley, October 01

4-02 Box, 14:38 - Squad 4 was alerted to the intersection on Three Notch Road and Mattapany Road in St. James for a motor vehicle accident. Safety 4 arrived on location and advised there were two vehicles involved with one injured. Squad 4 and Engine 141 arrived and provided patient care and secured the vehicles involved. Crews assisted Ambulance 399 in loading the patient to be transported to St. ... (Full Story & Photos)



MVA - St. James

Protecting Maryland's First Since 1948