National Weather Service Alerts for St. Mary's County, MD
Welcome to Ridge Volunteer Fire Department, Inc.
Ridge, Maryland
---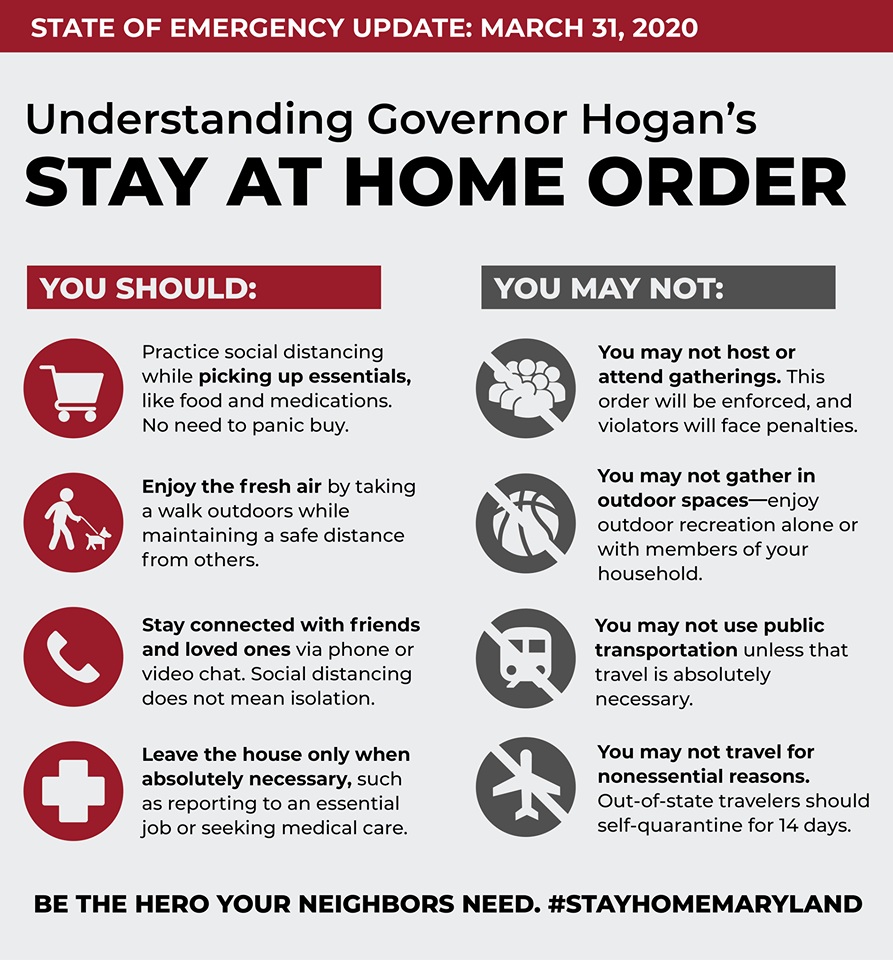 COVID-19 QUESTIONS?
VISIT WWW.SMCHD.ORG OR CALL 301-475-4911
STAY INFORMED AND KEEP YOU AND YOUR FAMILY SAFE!
---
We support our local small businesses affected by this pandemic. The following businesses are still providing their services to the community. Please support them as much as possible.
Ridgell's Baymart - Providing Carryout Only
Ridge Hardware - Open Normal Hours
Dollar General - Open 8AM* - 8PM, *Senior Citizen Shop 8AM-9AM
Nicolletti's Pizza - Providing Food Truck at RVFD every other Wednesday 3PM-7PM
If you have a small business and still are providing services, please contact us. We will add you to our list of support!

Woods Fire - Dameron

Woods Fire - St. Jerome's Neck

Assistant Fire Chief Edward (Eddie) Raley, March 20

4-05 Box, 17:15 - The Fightin 4 was dispatched to 18690 St. Jeromes Neck Road in Dameron for the reported woods fire. Chief 4 marked up responding and St. Mary's Communications advised that the caller stated that the woods were on fire and it was threatening a structure. Chief 4 directed to have the Engine and Tanker respond instead of brush units. Engine 141 arrived on location at 17:22 and advised ... (Full Story & Photos)

Outside Fire - Dameron

Assistant Fire Chief Edward (Eddie) Raley, March 18

4-05 Box, 18:45 - Ridge Units were dispatched to 17257 Three Notch Road in Dameron for the reported outside fire. Chief 4 arrived at 18:48 and confirmed a large pile that had extended into the wooded area nearby. Brush 4 and Engine 132 (running in place of E-141) extinguished the fire and performed extensive mop-up. Units cleared at 19:29.... (Full Story & Photos)



Brush Fire - Dameron



MVA - Lexington Park

Rear End Collision / Park Pines Drive

Assistant Fire Chief Edward (Eddie) Raley, February 14

4-02 Box, 17:12 - Squad 4 was dispatched to the intersection of Park Pines Drive and Three Notch Road in Lexington Park for the reported motor vehicle collision. Chief 4 arrived at 17:22 and reported two vehicles in the roadway with three patients. Squad 4 and Engine 41 arrived and assisted with patient care and securing the vehicles. Ambulance 396 transported one patient and Ambulance 496 transported ... (Full Story & Photos)


Vehicle Into Tree - St. Mary's City

Assistant Fire Chief Edward (Eddie) Raley, January 14

4-01 Box, 15:53 - Squad 4 was dispatched to the area of 16122 Point Lookout Road in St. Mary's City for a motor vehicle accident. Engine 141 arrived and reported a single vehicle into a tree and assumed the command until the arrival of Squad 4. Squad 4 arrived and assisted with patient care and securing the vehicle. One patient was transported to St. Mary's Hospital with minor injuries. Units cleared ... (Full Story & Photos)



MVA - St. Mary's City



Camper Fire - Ridge

Structure Fire -Ridge

Assistant Fire Chief Edward (Eddie) Raley, January 11

4-07 Box, 14:24 - Ridge units were dispatched to 16464 Three Notch Road in Ridge for a structure fire with reports of animals trapped inside. Engine 41 arrived shortly after and reported a camper trailer fire which was totally involved. Crews deployed and 1 3/4" line to the front door a began an interior attack. Squad 4's crew arrived and assisted with a primary search in which several dogs were located ... (Full Story & Photos)


Holiday Message from State Fire Marshal's Office

Assistant Fire Chief Eddie Raley, November 24

State Fire Marshal Brian S. Geraci would like to wish residents across the State of Maryland happy holidays and remind them of safe practices when celebrating this season.

"This is the time of year where we gather around dinner tables, fire places, Christmas trees, and candles. It's important to put safety first when celebrating the holiday traditions that are unique to your family in order to ... (Full Story & Photos)



Open Air Burning

Maryland Open Air Burning

Assistant Fire Chief Eddie Raley, October 08

Ridge VFD would like to remind 1st district citizens of safety and jurisdictional requirements when burning outdoors. Open air burning is defined as a fire where any material is burned in the open or in a receptacle other than a furnace, incinerator, or other equipment connected to a stack or chimney. It also includes other fires such as campfires.

Alternatives to open air burning include: composting, ... (Full Story & Photos)


Vehicle Into Woods - Kessler Way & Rt.235

Assistant Fire Chief Eddie Raley, October 05

Box 4-02, 00:27 - Ridge Units were dispatched to 19091 Three Notch Road in the area of Kessler Way in Lexington Park for the reported vehicle off the roadway into the woods. Squad 4 arrived at 00:39 and assisted EMS with patient care. Only one patient was located outside of the vehicle. Engine 141 and Squad 4's crew secured the vehicle and controlled traffic. One victim was transported by Ambulance ... (Full Story & Photos)



MVA - Lexington Park

Protecting Maryland's First Since 1948